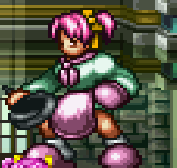 Cook (調理) is a class from Nage Libre: Rasen no Soukoku. This class is fought with very rarely in the game. When used by the player this class has the class skill to heal the other team members for about 60 or so HP per heal.
Ad blocker interference detected!
Wikia is a free-to-use site that makes money from advertising. We have a modified experience for viewers using ad blockers

Wikia is not accessible if you've made further modifications. Remove the custom ad blocker rule(s) and the page will load as expected.