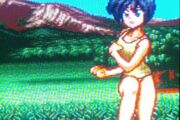 Kaori(かおり) is an enemy character from Nage Libre Seijaku no Suishin. She never has any lines in the game and is only seen on mission 21. From her looks she seems like the cheery and clumsy type.
Birth Stone: Agate
Level: 34
HP: 130
Attack: 56
Defense: 54
Speed: 54
MT: 24
Ad blocker interference detected!
Wikia is a free-to-use site that makes money from advertising. We have a modified experience for viewers using ad blockers

Wikia is not accessible if you've made further modifications. Remove the custom ad blocker rule(s) and the page will load as expected.