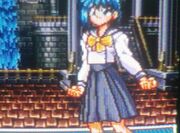 Miyuki(みゆき) is an enemy character in Nage Libre Seijaku no Suishin. She is seen at the start of misson 19 when Yui and her team get close to the stairs. She comes down and attempts to stop them while her friend watches. After defeating her, her friend stays behind and doesn't attempt to attack and fears the five nymphs.
Miyuki looks similar to another enemy Hiromi.
Ad blocker interference detected!
Wikia is a free-to-use site that makes money from advertising. We have a modified experience for viewers using ad blockers

Wikia is not accessible if you've made further modifications. Remove the custom ad blocker rule(s) and the page will load as expected.